What Actually Happens When You Request An Expedited Review From Apple?
I have a client with a Xamarin Forms app that streams live video for sporting events that they host throughout the year. Recently they sent me an email apologizing but saying they forgot to update a sponsor's logo for an upcoming event. The event was 2 days away, could we get the app updated and in the stores?
I told them the truth. Most likely, no, but we can try. Here is the timeline of how we made it happen.
For those of you who just want a how to of expediting an app, jump to Monday at 11:42am.
Monday 9:12am
Client emails asking for urgent release with new logo. Their live event starts Wednesday morning.
Monday 10:08am
I look up the specs and tell them if they can get me a PNG in this exact size in two hours we can probably get Android and Windows released but no way can we get iOS out.
I look up the average review times on http://AppReviewTimes.com/ and it's 5 days.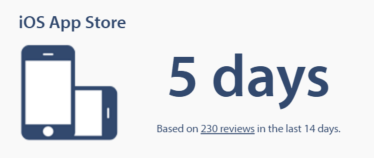 I explain that there is an expedited review process but I've never done it before and it's not guaranteed to be approved or even be any faster.
Monday 10:21am
Client immediately responds with logo in the exact dimensions I asked for. (I love working with these guys, they're on top of their game.)
It takes just a second to update the image, but even with just a minor change you've got to do a quick test, on hardware devices, on all platforms. (iOS, Android, Windows)
Monday 11:34am
I submit new builds to iTunesConnect, Google Play, and Windows Dev Center.
Google is ready in the Play Store in less than an hour. Windows is ready when I check the next morning. From here on we'll just focus on iOS.
Monday 11:42am
A get the email from Apple notifying me that my build has finished processing. I submit it to TestFlight for internal testing, throw it up on hardware devices (an iPad and an iPhone) just to make sure I didn't screw anything up, and run through the app real quick. It works, so I submit the app to the store.
The next minute I get the email that my app status has changed to "Waiting For Review". Of course, I know this will take 5 days. By the time this process is over my client's event will be finished.
So I head to the "Contact The App Review Team" form. There are two cases where you can request an expedited review:
1) An urgent bug fix
2) An update needed for a time-sensitive event
We qualify under #2 so I try my luck.
The form is available here: https://developer.apple.com/contact/app-store/?topic=expedite
It's very basic. After logging in (same credentials as iTunesConnect) you select the associated organization (if you're associated with more than one), give them a phone number, and then basic information about the app: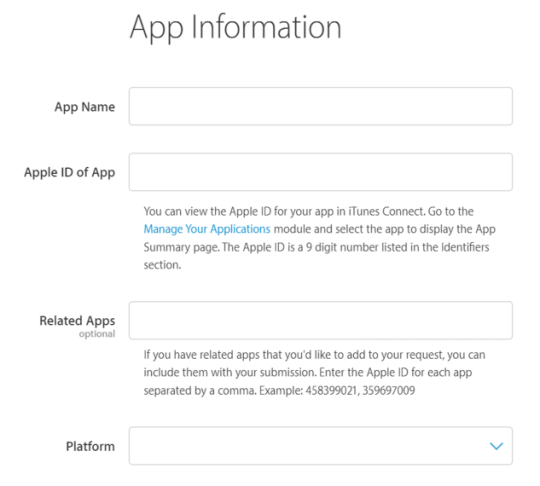 If you don't know your Apple Id of your App go to iTunesConnect, click on your app, and it's right on the first page under "General Information":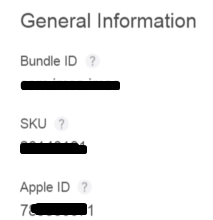 After that you give a description of why you need an expedited review. They note that if you don't provide detailed details you'll be denied so I errored on the side of over sharing.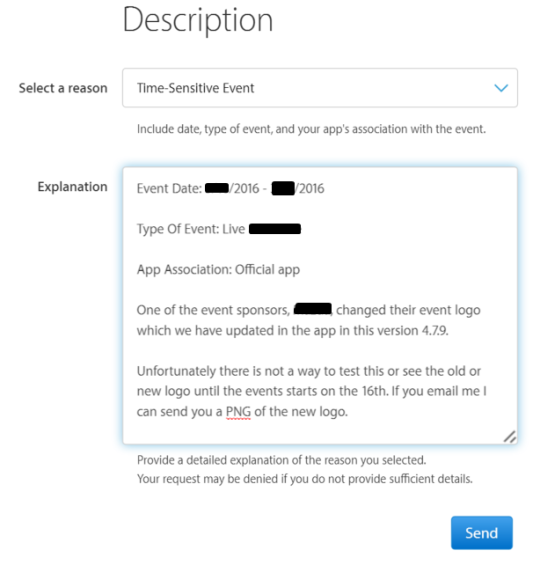 Monday 2:16 PM
About 3 hours later I got the email saying we'd been approved and that we would get an expedited review.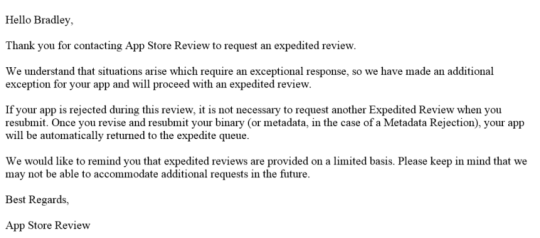 Note that this email does not promise the review will be completed by the time the event starts. At this point my app status was still "Waiting For Review".
Tuesday 1:31 PM
It wasn't until almost 24 hours later that I received the mail that my app status changed to "In Review".
Tuesday 7:18 PM
That night, just 12 hours before the even started, I received the mail from Apple that the app had been approved and was in the store!
Total time from submit to approval was 32 hours. A non expedited request would have been 5 days. The only extra work on my part was filling out a very short form. My client was thrilled.
Certainly you don't want to do this often, but in emergencies it's a great resource for Apple to provide and I'm thankful they came through for us.